Introducing Executive Class 12 Members
Learn more about Leadership Florida's Newest Members
Executive Class 12 Members gathered this weekend at the Ritz-Carlton in Naples for an intense, 3-day program, where they were first welcomed to the area during a reception hosted by the Southwest Region Council.
The Class experienced dynamic speakers, beautiful venues, and best of all, new friendships and connections that will last a lifetime.
When asked what was the greatest takeaway from the program, one member replied, "Getting the holistic picture of Florida and connecting with leaders from various sectors and regions, especially for a relatively new Floridian."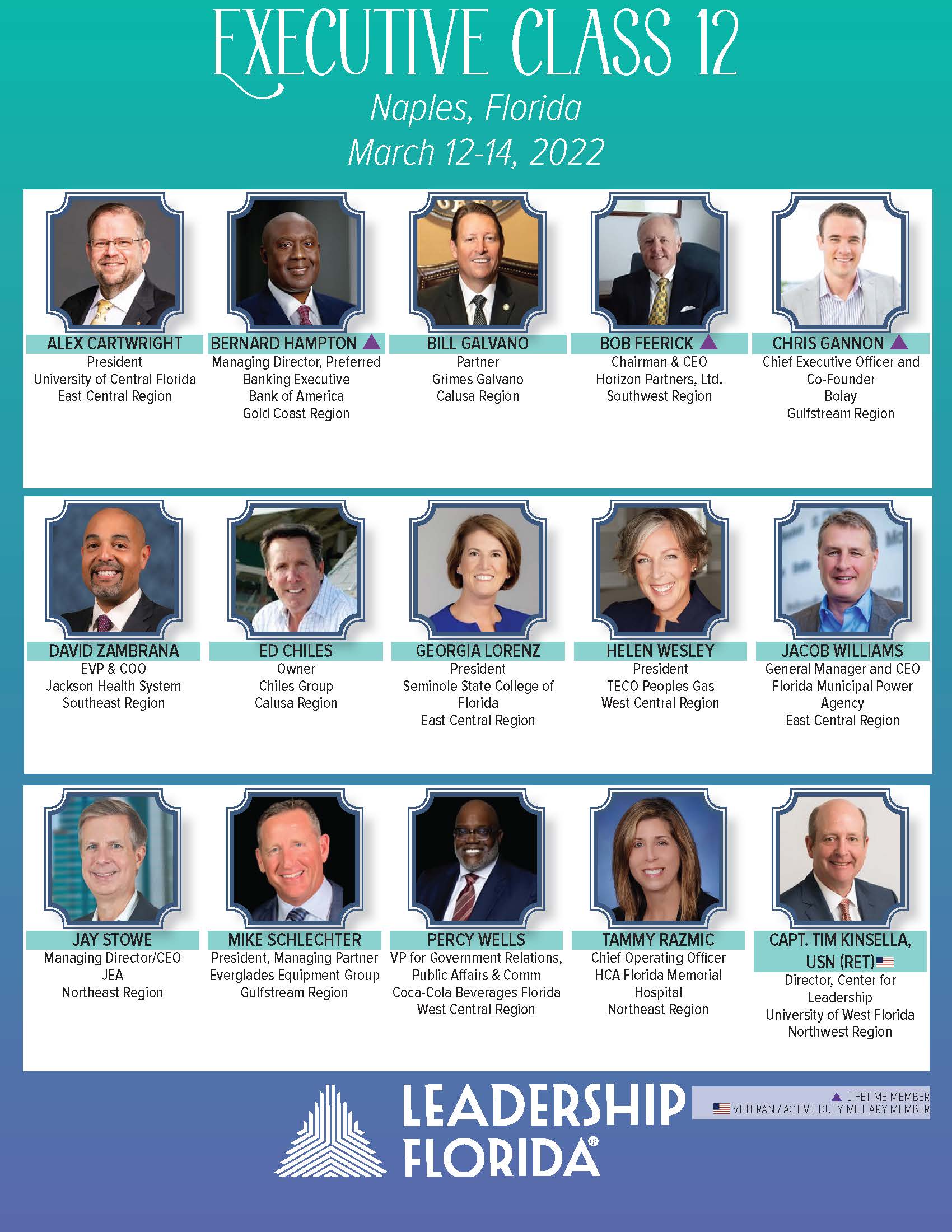 Leadership Florida's Executive Class is an exclusive, invitation-only program for some of our state's top executives. Members are given the opportunity to convene with fellow influential professionals, create lifelong connections, and build a stronger knowledge of Florida's economics, politics, and civic dynamics.
CALUSA

Bill Galvano

, Grimes Galvano


EAST CENTRAL

Alex Cartwright

, University of Central Florida

Georgia Lorenz

, Seminole State College of Florida

Jacob Williams

, Florida Municipal Power Agency


GOLD COAST

Bernard Hampton

, Bank of America

GULFSTREAM

Mike Schlechte

r, Everglades Equipment Group


NORTHEAST

Tammy Razmic

, HCA Florida Memorial Hospital

NORTHWEST

Tim Kinsella

, University of West Florida

SOUTHEAST

David Zambrana

, Jackson Health System


SOUTHWEST

Bob Feerick

, Horizon Partners


WEST CENTRAL

Percy Wells

, Coca-Cola Beverages Florida

Helen Wesley

, TECO Peoples Gas