Leadership Florida Education
Do you or someone you know have an interest in being a part of the Education Program? Click HERE for details.
EDUCATION CLASS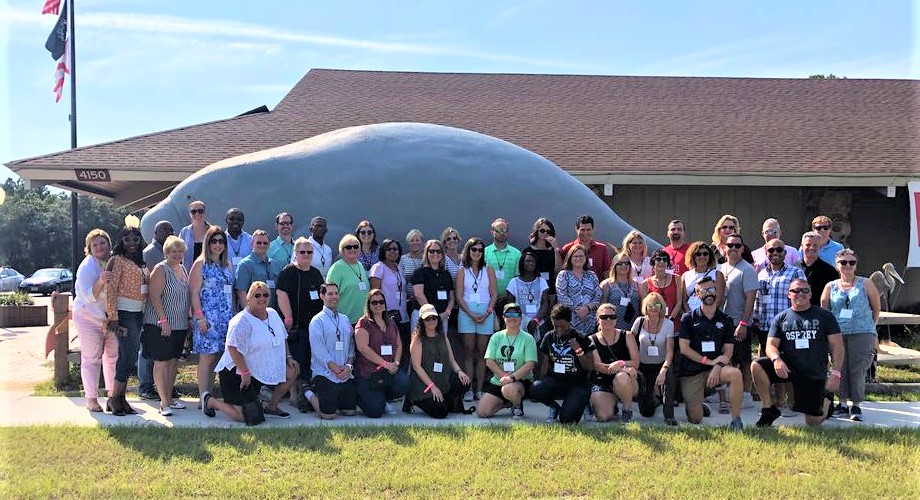 At Leadership Florida, our mission is to continually discover and convene committed individuals, enhancing and recharging their leadership skills by introducing them to a powerful community through whom they find knowledge and inspiration. We engage Floridians by providing essential information and a meaningful forum for their opinions and create opportunities for shared experiences that are inviting, inspiring, and of lasting value.
Finding the path to vault Florida's K-12 public schools to national prominence is the central goal for the Leadership Florida Education Program participants. The program includes accomplished superintendents, school board members, principals, teachers, state education department professionals, education foundation representatives, association leaders, business partners, and other public officials. Over the course of eight months, the class members intensively focus on the opportunities and challenges associated with making Florida the number one state in the country for public education.
Each session will provide program participants with a comprehensive look at K-12 education from international, national, and statewide perspectives for the purpose of advancing K-12 outcomes in Florida. Programs will focus on educational systems, the examination of best practices, schools, classrooms, partnerships, innovation, and more!
The Leadership Florida Education program has been made possible through a unique partnership between the Bill and Melinda Gates Foundation, the Helios Foundation, the Florida Education Foundation, the Florida Department of Education, and PNC Bank endowing Leadership Florida with new resources to create and produce this program. This partnership recognizes Leadership Florida's unique position as the state's most respected non-partisan convener of leaders on critical issues facing Florida's future. Each organization recognizes that no issue is more important than education - an education that enhances the opportunity for all young people to have the life they deserve.
Members of the Leadership Florida Education Program are challenged to apply what they learn in their own work, whether it is in a classroom or a boardroom. The partners also intend for class members to build trusting relationships statewide that can be leveraged for the rest of their careers on behalf of Florida's students, families, and educators.
Graduation from our classes does not signify the end, but the beginning of a lifetime of opportunity as a member of the Leadership Florida membership network. Leadership Florida convenes regular meetings, regional and statewide, to facilitate continuing issues-oriented education, advanced leadership training, networking, and the opportunity for members to work together toward shared goals.
The over 3,100 graduates of Leadership Florida programs are men and women who serve as chief executive officers of some of Florida's top corporations, mayors, and other elected officials, executives of pivotal non-profit groups, and leading academicians. They are also farmers, managers of high-tech consortiums, rural hospital administrators, and head Florida's most important agencies. They own small businesses and even include law enforcement officers in communities throughout our state. They are committed to local and state communities through their collective service on over 5,000 boards of companies and organizations throughout Florida.
2019-2020 CLASS SESSION SCHEDULE
LEADERSHIP FLORIDA EDUCATION CLASS 5
| | | |
| --- | --- | --- |
| OPENING SESSION | WEDNESDAY-FRIDAY, SEPTEMBER 25-27, 2019 | CRYSTAL RIVER |
| SESSION 2 | THURSDAY-FRIDAY, DECEMBER 12-13, 2019 | TAMPA |
| SESSION 3 | THURSDAY-FRIDAY, FEBRUARY 20-21, 2020 | PALM BEACH |
| NEW DATES - SESSION 4 | THURSDAY-FRIDAY, JUNE 18-19, 2020 | TALLAHASSEE |
| ANNUAL MEETING | FRIDAY-MONDAY, SEPTEMBER 4-7, 2020 | BOCA RATON |
SELECTION CRITERIA
The Leadership Florida Selection Committee, comprised of Leadership Florida graduates from throughout the state, seeks to identify those individuals most likely to utilize their leadership abilities for the long-term benefit of Florida and individuals who are committed to making Florida a better place in which to live and prosper. Through the application process, including discussions with references, the committee strives to select participants who will provide the Class with broad professional, geographic, ethnic, and gender representation.
AGE REQUIREMENTS
While the Leadership Florida Connect and Cornerstone Program applicants must meet specific age requirements, the Leadership Florida Education Program has no age requirements.
PARTICIPATION
Participants are required to attend each session in its entirety to graduate with their class. Leadership Florida strictly enforces this policy.
TUITION AND PAYMENT POLICY
Tuition covers all of your registration fees, activities, local transportation, and most meals for the entire Leadership Florida Class program. The first year of membership dues is also covered under your tuition.
Tuition does not include travel or hotel room fees for any of the sessions, including the Leadership Florida Annual Meeting.
Thank you to our Sponsors!