Leadership Florida Awards
Leadership Florida is proud of all the work Floridians are doing to strengthen our Sunshine State and excited to have five awards that provide opportunities for us to celebrate the hard work of individuals and organizations.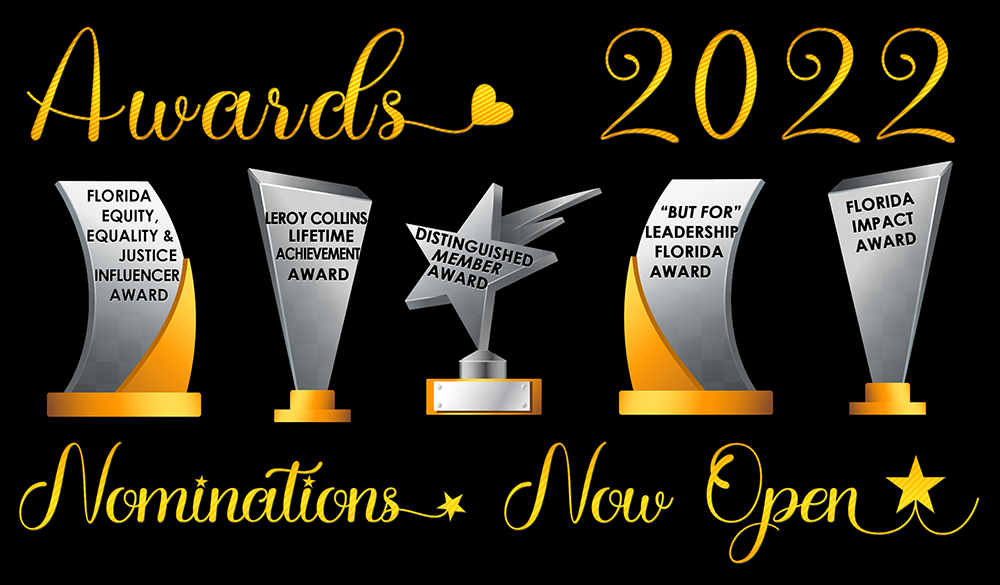 We are thrilled to share that the nomination forms for the 2022 Leadership Florida Awards are now available online! 
Each year, Leadership Florida recognizes Floridians that exemplify the mission, vision, and values of Leadership Florida. Nominations are accepted by active members during the Spring of each year. Award recipients are chosen and announced during the Annual Meeting.
---
Download the 2022 Awards Fact Sheet for more information.
---
2O22 Awards Timeline
March 1, 2022:  Nomination forms go live
March 31, 2022:  Nomination deadline
June 23-26, 2022:  Award Recipients announced at the 2022 Annual Meeting at Universal Studios
Current Awards
Chair's Award

The Chair's Award is presented by the Board Chair each year to a member or members for their unique contribution to the mission and vision of the organization. This year's award was presented to the three members below for their commitment to the 2020-2021 Special Council for Equity, Equality, and Justice. During their charge as Co-Chairs for the Council, the team hosted 19 virtual forums and events and included 1,100 attendees.
The Chair's Award Most Recent Recipient
Board of Directors Chair's Award - Chris Hand, Bacardi Jackson, and Darnell Smith
Florida Equity, Equality & Justice Influencer Award
On September 28, 2020, the Leadership Florida Board of Directors approved the Special Council Framework and Goals, which included the creation of this annual award to recognize organizations, which include at least one Leadership Florida member, who are doing outstanding work in equity, equality and justice.
The Florida Equity, Equality & Justice Influencer Award recognizes a business or nonprofit organization that has demonstrated leadership in Equity, Equality & Justice by changing their company, community, or Florida in two or more of the following areas: 
Boards and Senior Leadership Team
Pipeline Development, Supplier Development
Pay Decision Making
Justice in Housing/Education/Criminal Justice Systems
Philanthropy in Time/Talent/Treasure
*Nominated organizations must include at least one current Leadership Florida member who is employed by the organization.
The Florida Equity, Equality & Justice Influencer Award Most Recent Recipient
2021 - Jacobs
"but for" Leadership Florida Award
 This award recognizes a Leadership Florida member who has used specific knowledge gained and/or relationships built through their Leadership Florida experiences to improve the lives of fellow Floridians and create "but for" moments.  In addition to the honor itself, Leadership Florida will make a donation of $2,500 to the recipient's organization of choice, subject to the approval of the Board of Directors.
*Nominee must be a current Leadership Florida member
The "but for" Leadership Florida Award Previous Recipients
2017 - Alex Sink
2018 - Mike Freed
2019 - Chris Hand & Lori Kifer Johnson
2020 - Nadine Smith
2021 - Sheriff Dennis Lemma
Distinguished Member Award
The purpose of the Leadership Florida Distinguished Member Award is to recognize a Leadership Florida member whose continued leadership activities, outside of their professional responsibilities, have exemplified the highest standards of Leadership Florida and whose activities achieved results or set an example of statewide influence. 
*Nominee must be a current Leadership Florida member
Distinguished Member Award

Previous Recipients

1990 - Jack Levine
1991 - Glenda Hood
1992 - Ron Saunders
1993 - Dorothy Weaver
1994 - Kathy Adams
1995 - Lester Abberger
1996 - Frank Ioppolo, Sr.
1997 - Clarence Anthony
1998 - Barbara Ann Blue
1999 - Pat Pepper
2000 - Bob Richardson

2001 - John Delaney
2002 - Pam Iorio
2003 - Pam Davis
2004 - Larry Lee
2005 - John Ruffin
2006 - Fred Leonhardt
2007 - John Sinnott
2008 - Ron Sachs
2009 - Jeff Bartel
2010 - Deanne Roberts
2010 - Steve Leifman

 


LeRoy Collins Lifetime Achievement Award

In recognition of the impeccable standards that Governor LeRoy Collins set for leadership in our state, in 1991 the Lifetime Achievement Award was renamed in his honor.  The purpose of this award is to recognize an individual, or couple, who, like Governor Collins, has gone above and beyond by using their leadership abilities over a lifetime to improve the quality of life for all Florida citizens and its future generations.

*Nominee(s) does not need to be a Leadership Florida member.

*If a non-member wins this award, they will become an Honorary Member of Leadership Florida.
LeRoy Collins Lifetime Achievement Award

Previous Recipients

1990 - Phil Lewis
1991 - Gov. LeRoy Collins*
1992 - Alvah Chapman
1993 - James E. Davis*
1994 - Chesterfield Smith
1995 - Hon. Carrie Meek
1996 - Dr. Stephen O'Connell
1997 - Jack Eckerd
1998 - Gov. Reubin Askew
1999 - John Edward Smith*
2000 - Gene Patterson

2001 - Judge Joseph Hatchett
2002 - Gov. Lawton Chiles*
2003 - Dr. John DeGrove
2004 - Al Burt
2005 - Fred Schultz
2006 - Nathaniel Reed
2007 - Sen. Bob Graham
2008 - Henri Landwirth
2009 - Charles & Saundra Gray
2010 - Dr. Michael Gannon

* indicates posthumously




Florida Impact Award

The Florida Impact Award (previously Statewide Community Award) recognizes a business or nonprofit organization that has created a specific project or body of work whose impact is currently transforming the future of its Region or beyond and has the potential to transform Florida as a whole.

*Nominee must be a current Leadership Florida member
Florida Impact Award

Previous Recipients

2014 - Redlands Christian Migrant Association
2015 - The Village Square
2016 - The FLITE Center
2017 - Central Florida Partnership
2018 - JASMYN
2019 - Anna Maria Oyster Bar & Restaurant
2020 - K9s For Warriors
2021 - GLHomes
Statewide Community Award

Previous Recipients

Statewide Community Award Previous Recipients
1996 - Florida Humanities Council
1997 - Holland & Knight
1998 - Florida League of Cities
1999 - Not awarded
2000 - Not awarded
2001 - Constitutional Revision Committee
2002 - NCCJ
2003 - JM Family Enterprises
2004 - Not awarded
2005 - Associated Marine Institutes
2006 - Bank of America
2007 - Not Awarded
2008 - AutoNation2009 - Blue Cross & Blue Shield of Florida
2009 - Blue Cross Blue Shield of Florida
2010 - Children's Home Society of Florida
2011 - Volunteer Florida
2012 - Publix Super Markets, Inc.
2013 - Florida Sheriffs Youth Ranch