Between noon TODAY and noon TOMORROW, Leadership Florida is one of 630 nonprofits participating in the #GivingChallenge18. To help us reach our goal of $40,000 follow these two easy steps
Go to GivingPartnerChallenge.org and type in "LEADERSHIP FLORIDA" in the "ORGANIZATION NAME." Our name will automatically appear.
All donations that will be matched must be submitted through using a major credit/debit card (Visa, MasterCard, Discover, and American Express). The 2018 Giving Challenge is presented by the Community Foundation of Sarasota County with giving strengthened by The Patterson Foundation and will match up to $100 (minimum $25) to receive the 100% tax-deductible match. For example, if you make a tax-deductible contribution of $100, your donation will be doubled for a total of $200 to make #LeadershipFloridaStrong.
WHY INVEST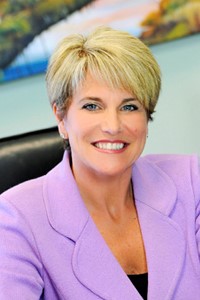 "We are Leadership Florida - a statewide community of leaders working for a better Florida. "This quote, which is located on our website, inspires me to remember why Leadership Florida is like no other organization in our state. Thirty-six years ago Leadership Florida was created to build a sense of statewide community, and over the years we all have benefited from the relationships formed, educational opportunities provided, and partnered collaborations with our Leadership Florida family. We have seen much growth over the last thirty-six years, and as our organization expands, so does the impact we have across the state. Our hope in participating in the 2018 Giving Challenge is to support the growth of our organization, embark on our Strategic Planning Process and continue growing our strong statewide community of leaders working for a better Florida.
Each member can #BeTheOne to strengthen Leadership Florida by participating in the 2018 Giving Challenge, a 24-hour online giving event. The #GivingChallenge18 will take place between noon on May 1 and noon on May 2. The Community Foundation of Sarasota County will match your contribution up to $100.
Please join us as we continue to be committed leaders who work to build community in our state, the vision of our organization, and a better Florida for generations to come. You will go to https://givingpartnerchallenge.org/ on May 1-2, 2018 to donate!
Thank you for your support!
Beth Kigel, Board Chair
A COPY OF THE OFFICIAL REGISTRATION AND FINANCIAL INFORMATION MAY BE OBTAINED FROM THE DIVISION OF CONSUMER SERVICES BY CALLING TOLL-FREE WITHIN THE STATE. REGISTRATION DOES NOT IMPLY ENDORSEMENT, APPROVAL, OR RECOMMENDATION BY THE STATE.