2O22 Annual Meeting! 4Oth Anniversary Celebrations
The deadline for Leadership Florida's room block deadline has passed. However, there are rooms available, please contact Kelly Jones at kjones@leadershipflorida.org.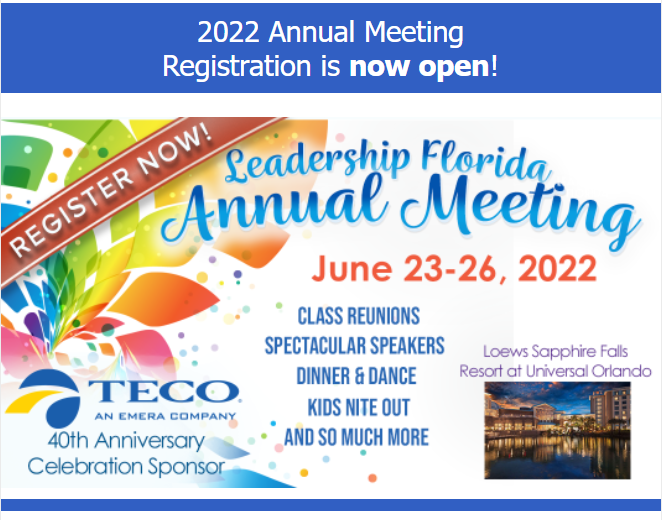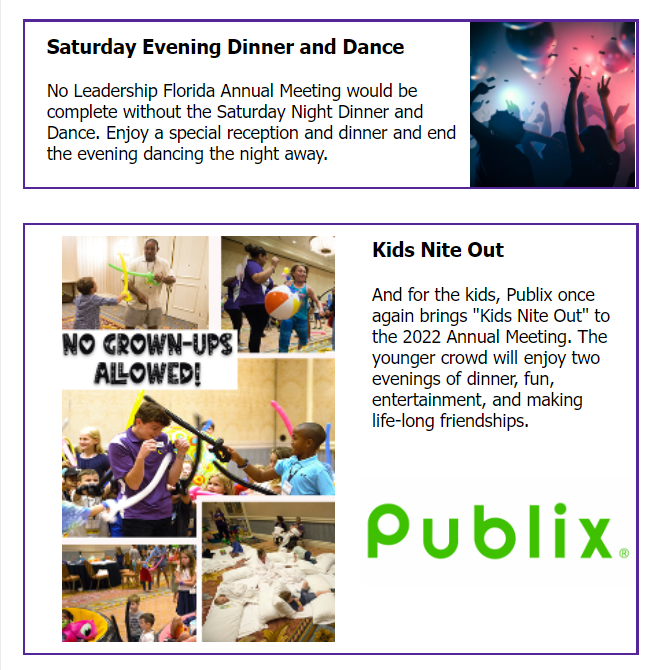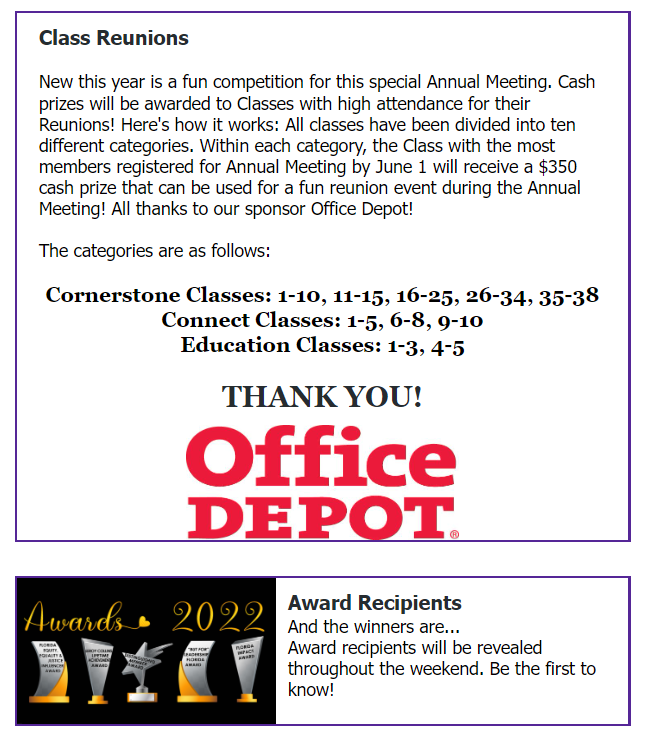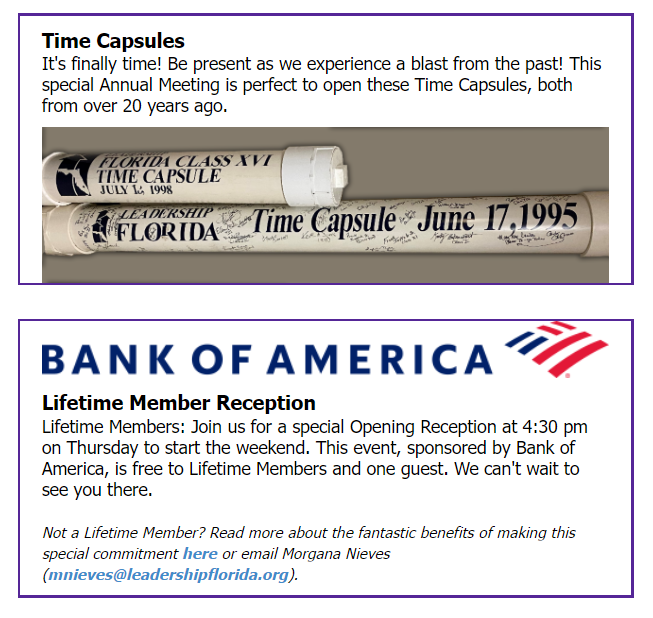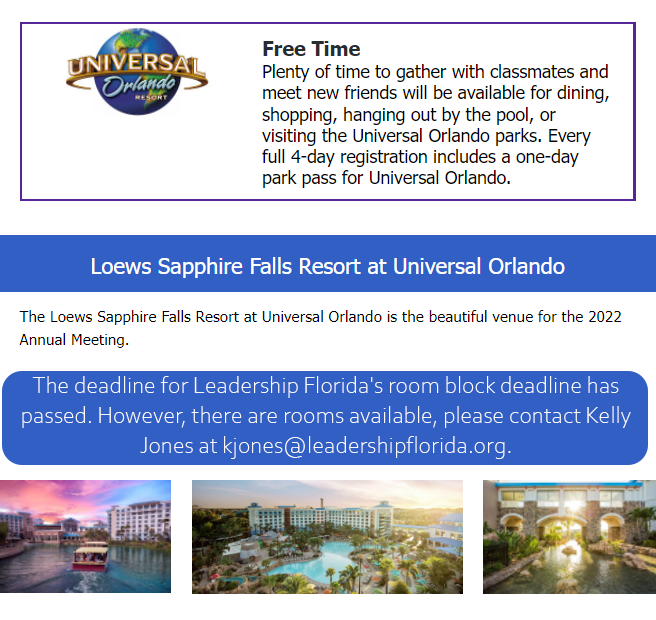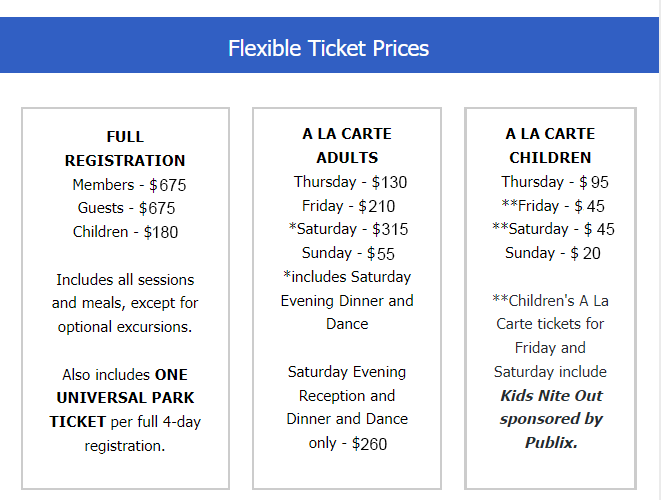 Note: Universal Park Tickets are NOT included with any A La Carte tickets,
regardless of how many days are purchased.
Frequently Asked Questions
What type of Universal Park ticket is included?
The ticket is a 1-day 2-park ticket that allows park-to-park access between Universal Studios and Islands of Adventure. It has no block-outs and expires 12/15/2022. Park tickets are ONLY included with full 4-day registrations.
Who is invited to the Leadership Florida Annual Meeting?
All Leadership Florida members are invited and encouraged to attend. It is a time of reunions, getting together with your class members, and meeting new friends. To register, members must be in good standing, including current dues being paid.
Of course! There will even be special programming designed just for the younger crowd (under 18 years old).
Who else can I bring?
Registration and attendance at all Leadership Florida Annual Meetings are limited to members and immediate family members. In addition, members are allowed to bring a 'significant other' that whom they are currently in a relationship. While other guests are occasionally invited to designated Leadership Florida events, the Annual Meeting is not intended for business partners, potential recruits, or past Leadership Florida members that are not current on membership dues.
Do I have to attend the entire event?
No. We realize other commitments may prevent you from spending the entire weekend with us. On the Registration page, you will find several different tickets. Purchase only the one that works best for you.
How do I register for the hotel at a special rate?
Leadership Florida's room block at Sapphire Falls Hotel is FULL. Please contact Kelly Jones at kjones@leadershipflorida.org if you are still in need of a room. Leadership Florida currently has a few rooms available at the host hotel, so if you act quickly, we may be able to get you in.
I did not receive my confirmation email. What should I do?
First, please check your spam folder. If you still do not see your confirmation email, please email (communications@leadershipflorida.org) for assistance.
For registration cancellations on or before June 10, 2022, Leadership Florida will provide a full registration refund, less a $75 processing fee per adult registration or a $25 processing fee per child registration.
Daily a-la-carte registrations will incur a $25 processing fee per day registered.
Cancellations after that date (June 10, 2022) are non-refundable.
Hotel reservations must be canceled more than 5 days prior to check-in day. All cancellations should be made through the hotel reservations desk.